Know your customers to outsell the competition.
EDA offers unique, accurate data to expand your market share and enhance profitability like never before. Only EDA has it.
Forward-thinking industrial and capital equipment companies depend on Randall Reilly's EDA for both strategic planning and tactical execution.
Nine Industries.
One View of Your Market.
With decades of experience aggregating equipment purchasing data, we can assure you that we are the best partner to help you pinpoint trends, determine your market share, and most importantly, find new customers.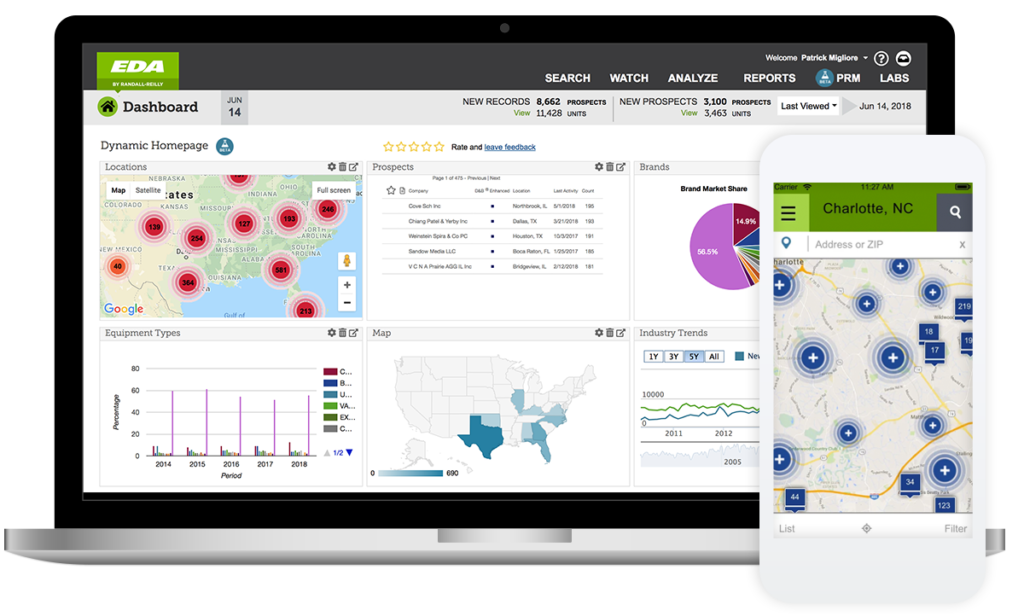 "We use EDA Online to analyze competitor manufacturers and what they're selling in a particular dealer's market. We can then help that dealer stock and market the right products for their market. With customer-specific information and mapping, we can demonstrate patterns, then interpret that knowledge into helpful tactics."
"Using EDA, we've been able to look over a prospect's past purchases, get a better understanding of what equipment they might need, and from there, approach our sales conversations much more strategically."
"Before we had the EDA data, we were really shooting from the hip, chasing contractors we knew. This opens up a lot more opportunities for us. Our sales people use the data pre-sales call to find out which clients have a history of purchasing used equipment. The results are better sales calls and taking up less time from prospects during the process. The EDA data has been a great return on our investment."
"I have been using and recommending the EDA data for years. We buy and sell used industrial assets and the data from EDA is invaluable in targeting and contacting both buyers and sellers."
"There's opportunity within the EDA data. Many in B2B do not have experience in direct marketing, so it can be difficult to know how to effectively apply the data. Success in DM is driven by the quality of your list, strength of your offer and presentation of creative – in that order. EDA allows you to build a list meeting very specific criteria. If you invest in a strategy to leverage this information and have the discipline to follow through, there is no question that it will pay off."
We assemble high quality data to give you valuable leads.
At the core of each record is a cleaned and verified UCC filing, enhanced with additional contacts and D&B® firmographic data.
Learn how EDA works to ...