With EDA's both up-to-the-minute and historic data, you'll know which prospects are prime candidates for wear-part replacements and service. Use EDA to increase your aftermarket sales.
Build Your Sales Pipeline with Qualified Prospects
You create parts or software that complements OEM's equipment. There is no better way to find customers than by using Randall Reilly's EDA to pinpoint the owners of that equipment. The market intelligence we provide is both brand and market specific.
Focus on individual buyers for the exact equipment you sell.
"In Marketing, we use EDA Online for lead generation, tracking both purchases and refinances. This allows us to keep close tabs on our targets and competitors. We've found EDA Online to be extremely beneficial in selling new equipment as well as aftermarket parts and accessories."
Determine and execute marketing strategies with smart data.
Seize product opportunities by understanding soft spots in the market.
"Simply put, EDA's total package of data quality, customer service, delivery mechanism and price is the best in business. If you're not using their services, you are seriously missing out."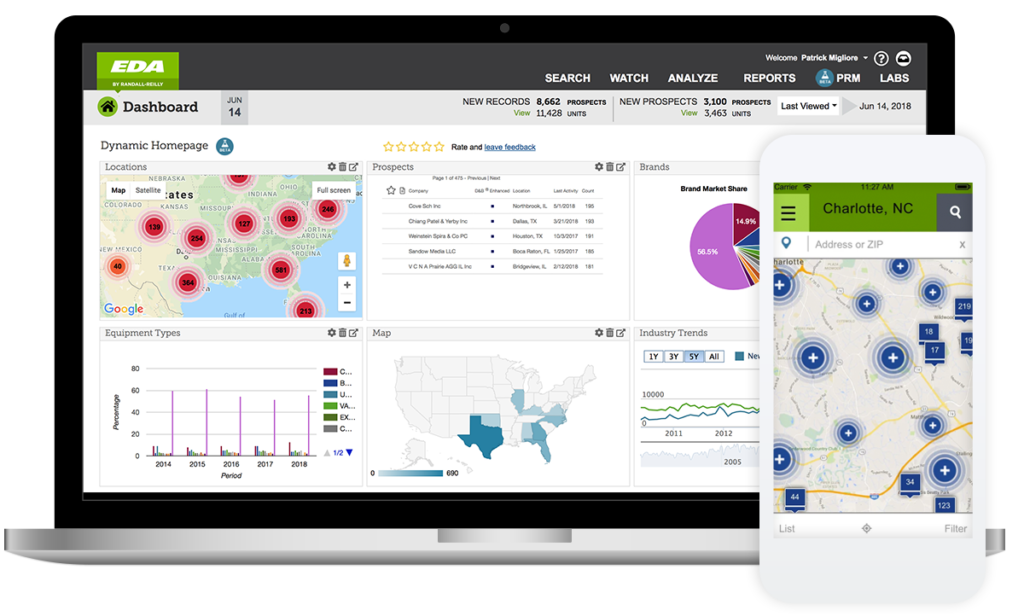 Nine Industries.
One View of Your Market.
With decades of experience aggregating equipment purchasing data, we can assure you that we are the best partner to help you pinpoint trends, determine your market share, and most importantly, find new customers.